9/11/2013 8:45 PM ET | Filed under: Film Flickers Mila Kunis Olivia Wilde You may or may not be looking at the seksiest pic ever taken in Toronto! Yesterday, Olivia Wilde and Mila Kunis sat down for the press conference for their movie Third Person (aka what we wish we could be tagging along with the two of them). We hope Olivia engaged to tall, handsome funnyman, Jason Sudeikis gave Mila some advice about locking down her own tall, handsome funnyman, Ashton Kutcher ! SRSLY! What happened to that ring on Mila's finger? Did Ashton punk her with a fake proposal? We want Ashton to ask her to put it back where it belong: her right hand! Ugh, we hope that seemingly innocent reunion between Ashton and Demi Moore didn't throw off their plans to go to the chapel. Just think of all the cute babies they could make together! Do it for our your sake, you two! We bet Mila and Olivia became bestiez! Who knows, eh? Maybe they're thinking of scheduling a joint wedding! Oh, what? WE CAN'T DREAM?
TIFF Blog Alberto E. Rodriguez/Getty Images Mila Kunis made one mistake before coming to the 2013 Toronto International Film Festival: because Canadians have such a reputation for being calm and laid-back, she assumed the festival would be the same. Not so, as she quickly learned when she arrived in town this morning. I love me some Toronto, but Ive never been to the festival its very fun, but crazy, the 30-year-old actress told reporters outside the Elgin Theatre on Monday night. Its a little crazier than I thought it was going to be. I thought it would be a little low-key. Its a little fancy-pants. The Canadians really brought it! Kunis had two films screening at TIFF on Monday night, Blood Ties and Third Person. In fact, both movies were essentially premiering at the same time, forcing the actress to choose which showing to attend — ultimately, she ended up at the Third Person premiere, along with Oscar-winning director/screenwriter Paul Haggis and co-stars Maria Bello, Adrian Brody, and Olivia Wilde. The film tells three interweaving stories taking place in Paris, New York City, and Rome. In Kuniss story line, she plays a mother accused of trying to kill her son; in the aftermath of the accusation, she struggles against the boys father (played by James Franco) to stay in contact with her child. It was a difficult role for the actress, but one that immediately appealed to her. Playing flawed characters is always an attraction to an actor, and in this film, there are no protagonists only real, honest, human characters, Kunis explained. Its always a challenge to take a character thats not innately likeable and to make the audience root for them. And even if her character had been less challenging, there was another significant reason for Kunis to star in Third Person. I wanted to work with Paul, she said. It was a very simple decision. As excited as she appeared about her new films, Kunis seemed remarkably less enthusiastic when asked if she planned to attend any of TIFFs legendary parties. Mmm, nope! the actress replied, amused.
Ashton Kutcher and Mila Kunis Have Everyone Buzzing, Kanye is Taking His Raps on the Road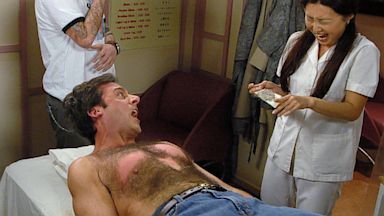 But even though everyone is wondering (and searching) as to whether Kunis is engaged to boyfriend Ashton Kutcher, there is no surefire answer as to whether to two former "That '70s Show" co-stars are planning on tying the knot any time soon, according to People Magazine . Neither of Kunis nor Kutcher's reps have responded to ABC News' requests for comment. 2 Kanye West Set to Tour Larry Busacca/Getty Images for MT | @kanyewest Kanye West is hitting the road. The "Black Skinhead" rapper tweeted "TOUR" along with a poster featuring his album title and the caption "Kanye West's 1st solo tour in 5 years with Kendrick Lamar." The new dad will kick off his nearly two-month road trip in Seattle on Oct. 19, hitting Los Angeles, Chicago, New York and Miami before culminating in Houston on Dec. 7, according to The Hollywood Reporter. Perhaps Kim and Baby North will be in tow. 3 #mysexlifeinmovietitles Suzanne Hanover/Universal Studios Home Entertainment/PRNewsFoto The Social Climber loves a good reveal on Twitter, but the trending hashtag string of the day –#mysexlifeinmovietitles — may just be TMI. "The 40 Year Old Virgin," "He's Just Not That Into You" and "A Series of Unfortunate Events" are just a sampling of what people are tweeting in response. Thanks for sharing. Katy Perry Apes Tarzan in 'Roar' Dimitrios Kambouris/WireImage/Getty Images The song of the summer may have had its moment, but "Blurred Lines" needs to start shuffling off to the side to make room for Katy Perry and her "Roar." Check the video . Perry pulls off jungle vixen pretty well, no? The Social Climber is glad Katy had the good sense to put the whipped cream cans away.