Is this Taylor Swift's new boyfriend?
According to Bossip, the adorable pair quickly got very cozy together in a private booth at Soho House just minutes after meeting for the first time. They then proceeded to indulge in some intense PDA. They were like magnets from the moment they got introduced and were pretty much together the entire night tattles a source, from about 10:30 p.m. until 2 a.m. when Taylor Swift finally left the party. Taylor was there for work but as soon as she and Brenton Thwaites started talking she pretty much ignored everyone else in the room. Harvey Weinstein was the host of the party and he got a little attention from Taylor but no one else seemed to be able to break into her orbit she was completely locked on Brenton. Yikes, sounds like the phenomenon the French call le cou de foudre. (Google it!) And it looks like speed demon Taylor Swift is moving even faster than usual. Brenton Thwaites and Taylor Swift took over a booth together and kept getting closer and closer until their thighs were touching, the gimlet-eyed source reveals. At one point, they were comparing rings and Brenton took off his silver ring and Taylor Swift tried it on. She was beaming and looked so beautiful, and Brenton Thwaites was totally in awe of her. They were whispering and talking so closely that their heads were touching. I could practically see their chemistry, it was so hot!
Taylor Swift, Metallica and Jimi Hendrix Keep Toronto's Music Tradition Rocking
'22' singer Taylor Swift has refused to rule out more acting roles after appearances on the likes of 'New Girl' and 'CSI: Crime Scene Investigation', but she insisted it would only be for the "right" part. Taylor Swift is open to more acting roles in the future. The 'We Are Never Ever Getting Back Together' singer has already played parts on the big and small screen – she has appeared in 'Valentine's Day', 'New Girl' and 'CSI: Crime Scene Investigation' – and she has admitted she wouldn't rule out more in the future if the ideal project "came along". She told E! News: "That's always something that's in the back of my mind, if the right thing came along." While the 23-year-old star is open to the possibility of furthering her acting career, music remains her true passion and she insisted it would have to be an "amazing" offer to tempt her away from being a working musician. She added: "It would have to be something so amazing that it would take me away from writing songs and touring, which would have to be an incredible script." Taylor has been at the Toronto International Film Festival getting another taste of the film industry after her wrote a song – 'Sweeter Than Fiction' – for the end credits of 'One Chance'. The movie focuses on the true story of Paul Potts, the former shop assistant who rose to fame after winning the first series of 'Britain's Got Talent' in 2007. Taylor said: "The story just blew me away. I didn't know the story of Paul Potts. "He's working a cellphone store and then ended up winning 'Britain's Got Talent' … You have to see it.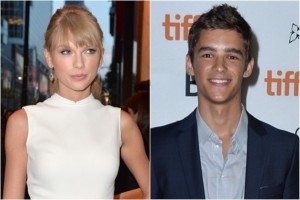 Movies Steve Pond 22 hours ago . View gallery Taylor Swift, Metallica and Jimi Hendrix Keep Torontos Music Tradition Rocking Over the last few years, the Toronto Film Festival has had a tradition of attracting major musical talents: Bruce Springsteen hit the town for a documentary and conversation in 2010, and U2 opened the festival with their own doc the following year, to name two notable examples. This year you might count Taylor Swift, who showed up for the party to celebrate the August: Osage County premiere but the heaviest rockers were Metallica, members of whom were in town on behalf of Metallica Through the Never, part concert film and part apocalyptic flick about a band roadie who leaves the gig to run an errand, only to find himself in the middle of city-wide anarchy. The concert film about the last Decembers Hurricane Sandy benefit, 12-12-12, also screened at TIFF, making it the rare work that could show at a film festival the same week it wins an Emmy. (It was simulcast on a number of stations in the U.S. and is up for variety-special directing at Saturdays Creative Arts Emmys.) Also read: Taylor Swift Mocks Kanye West VMA Incident in a Jam (Photo) Ron Howard also had his own music-focused film, Made in America, about a Philadelphia music festival produced by Jay-Z. One of the most ambitious music-related films is All Is by My Side, writer-director John Ridleys dark, jagged look at the year in which Jimi Hendrix went from playing backing guitar in small clubs to becoming the toast of London with the Jimi Hendrix Experience.Just as Hendrix himself was notoriously evasive and inarticulate when asked about his life and music, Ridleys film is determinedly vague, telling its story in flashes and bursts that focus on Linda Keith, the girlfriend of Keith Richards, who was so impressed by Hendrix that she took him to manager Chas Chandler, and to Kathy Etchingham, who became his girlfriend when he went to London. Ridley also wrote the festivals most acclaimed film, 12 Years a Slave, but this is a very different piece of history that glancingly touches on black experience but is more focused on the process of personal and artistic transformation. Also read: Amy Winehouses Father Disses Beyonce, Andre 3000s Back to Black Cover for Gatsby Actor and rapper Andre Benjamin, of Outkast fame, makes a convincing Hendrix in look, speech and manner; the trickier part comes when he plays guitar, because Hendrix was so inimitable that every attempt to capture his sound and style is pretty much destined to fail. A group of veteran rock session musicians, including guitarist Waddy Wachtel, try valiantly, but Jimi is Jimi. And because the Jimi Hendrix estate is fractured, difficult and notoriously resistant to any attempts to put the story on film, Ridley couldnt use any of the music Hendrix wrote. That gave him the unenviable task of charting an artistic progression only through soundalike versions of the cover songs Hendrix performed, which is essentially impossible.
Taylor Swift open to acting roles
| By KATE STANTON, UPI.com Taylor Swift must be working on a new album, because rumor has it that the 23-year-old singer and serial dater "hit it off" with Australian actor Brenton Thwaites at the Toronto International Film Festival on Monday. Though most rumors about Swift's relationships should be taken with a grain of salt, Page Six reported Wednesday that the two spent all night together in a booth at festival after-party hosted by the Weinstein Company and Grey Goose. "It looked like they were on a date all night, a source told the column. It was like everyone else melted away. But Thwaites might have some answering to do. Radar Online alerted readers to the Tumblr page of the Aussie actor's home-country flame, Jessica Campion, whom he dated when they met on the set of soap "Home and Away." Campion and Thwaites appear to have broken up when he left for the U.S., but she still wrote about her hopes for their relationship on her Tumblr as recently as August. Worst. day. ever," she wrote after fans pointed out rumors about her ex-boyfriend and Swift. She also reposted this note from a fan: Dont worry about it. her music is sh** anyway and youre prettier. Recommended Stories